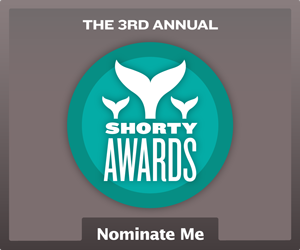 Our licence partner, Nick De Clercq, who also started our facebook user, facebook page, twitter, youtube and our blog is trying to get as much votes as possible in a community category #engelvoelkers for the shorty awards.
Why is he doing this?
The first reason is to get more Brand awareness for Engel & Völkers, and secondly for the challenge of using the E&V network and the new contacts created in the past 2 years via social media. If there are enough votes in the community category, it will be changed to an official category and the first nominees might be invited to the award ceremony and maybe even receive an award.
If you want to help by nominating him in the category #engelvoelkers, here is the link: